As technology continues to evolve, more and more industries are making the switch from traditional to digital models, which can be great news for people who are looking to start their own businesses!
Take the drone pilot industry, for example. The demand for qualified commercial drone pilots is high, and it's an industry that's expected to continue growing rapidly in the coming years. According to Business Insider, the drone services industry is projected to rise to $63.6 billion by 2025.
So you can see why learning how to become a qualified drone pilot can be one of the best ways to start your own business in today's modern world. To learn more about how you can become a qualified drone pilot, keep reading!
How to Become a Qualified Drone Pilot
Becoming a qualified drone pilot greatly depends on whether or not you're able to perfect your piloting skill. That's why a qualified pilot must have undergone all the necessary training required to become a professional.
And it's always best to familiarize yourself with the basics of flying a drone before enrolling for the qualification training. You have 2 hours to take the test, and you must get a 70% or higher to pass. A preparatory course before your official test will go a long way.
Also, you must meet the Federal Aviation Administration requirements to become a drone pilot. According to FAA, you must be:
16 years old and above
Be able to speak, read, and write English
Be in a mental and physical condition to safely fly a drone
Pass the initial aeronautical knowledge exam
Also as a qualified/certified drone pilot, you must complete recurrent online training every 24 months to maintain your aeronautical knowledge. That said, note that there are two types of certification for professional drone pilots: recreational and commercial certification, which we'll talk about further in this article.
So, if you meet the above requirements, all you have to do is sign up for a training course and start your application process to get your certification. Before we talk about the best training courses to help you become a drone pilot, let's take a look at what it costs to get an FAA drone license.
How Much Does it Cost to Get an FAA Drone License?
Registering a drone with FAA under Part 107 costs $5 per drone. However, each registration is only valid for 3 years. Also, after registration, you cannot transfer the registration license to another type of drone.
Meanwhile, Part 107 is a term used for 'Small UAS Rule,' the legal framework regulating the operations of licensed drone flights over national airspace.
The price of obtaining an FAA drone license is surely a factor to take into account, as drone pilots often obtain one to operate their own drone-based businesses. Although not excessively costly, the first expenditure could be very high if you decide to enroll in the training courses at the same time.
Remote Pilot Certificate Programs
There are a wide variety of academies that offer drone pilot training. The curriculum for the online courses is designed to assist students in passing the FAA Part 107 drone pilot certificate examinations.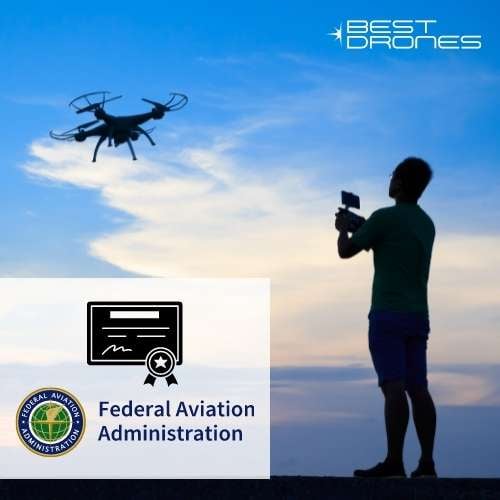 You're not required to complete a preparatory study course, but if you do the chances of passing the test increase by 80%-90%. Here are the top training courses you can take:
UAV Coach
More than 35,000 students have completed UAV Coach's FAA Commercial Certification course, popularly known as Drone Pilot Ground School, and passed the FAA Part 107 knowledge test.
You'll be well equipped to fly once you've obtained your license thanks to the bonus lessons, which cover subjects like practical flight expertise and drone business operations.
Pilot Institute
The initial Pilot Institute course was designed to make it easier for prospective drone students to sit for and pass their Part 107 tests, but the range of available courses soon expanded after that. The only program of its sort to earn accreditation from IACET is Pilot Institute.
The online Pilot Institute has attracted students from approximately 100 various nationalities, representing all corners of the globe. There have been well over 100,000 students who have registered for the course.
Dart Drones
If you want to pursue drone piloting as a career, DARTDrones is a great start to search for expert instruction because it offers courses ranging from fundamental to very technical and sophisticated.
Thermal drone pilots, military veterans, drone photographers, drone entrepreneurs, members of search and rescue teams, private pilots, airline pilots, and more make up the team of teachers at DARTDrones.
Drone Launch Academy
You will learn from actual industry professionals as well as drone business owners in the drone business mastery course. You'll learn how they used their drones to carve out a lucrative career path. You will learn everything there is to know about your drone from the DJI courses.
Their Drones 101 course is a wonderful place to begin learning about drones if you are entirely uninitiated. Every component of your drone will be covered, and you'll practice fundamental skills that could help you advance from a novice to an expert pilot faster than you might anticipate.
Recreational Vs. Commercial Certification
You don't need to register your drone with the FAA if you only want to fly it for recreational purposes i.e. fun or as a hobby. However, if you want to use your drone for commercial purposes, you will need to obtain a commercial certification from the FAA.
Commercial drones have to meet more requirements than recreational ones. Commercial pilots must meet all the requirements listed above (under how to become a qualified drone pilot).
Is Becoming a Drone Pilot Worth it?
Sure, becoming a drone pilot takes some time and effort. But if you're passionate about flying and want to turn your hobby into a career, it's definitely worth it. Plus, with the commercial drone industry expected to grow exponentially in the next few years, now is the perfect time to get started.
Can You Make a Living as a Drone Pilot?
Drone pilots are in high demand these days, as more and more businesses and individuals are using drones for a variety of purposes. If you're interested in becoming a drone pilot, there are a few things you need to know.
First, you'll need to get your drone pilot's license. This process involves passing an exam and completing a flight training program. Once you have your license, you'll be able to apply for jobs as a drone pilot. Start by taking a preparatory course for the official test today and watch yourself grow into the job.
Final Thoughts
Experienced drone pilots are in high demand more than ever. If you're looking to pivot careers and make a living by becoming a drone operator you cant start by taking online training and then get your pilot license and certification.